2017 model w/2 hours total on unit, this is made for slab wood, will do some small round wood, 6 knife, w/3 knives blocked out […]
75 total views, 1 today
2017 HR120 resaw w/twin 8 foot conveyors plus twin 12 foot roller sections, 25 HP Koehler air cooled engine, 16 inch cutting width, very few […]
138 total views, 0 today
this is a good machine, owner has replaced it with newer one, it is 3-phase and 12 inch capacity, he kept heads for newer machine, […]
212 total views, 0 today
42 inch X 30 inch box size, 30 HP motor on cutter head and 1 HP gear drive to move box, in Northern Ill.
279 total views, 0 today
1765 RPM, 1.15 service factor, works good, just no longer needed in Northern Ill
225 total views, 0 today
this is 1997 model and has 36 inch cut and 3-vertical saw edger w/top saw, extra blades, cab w/computer, 20 foot in feed deck and […]
314 total views, 0 today
[NOT ACTUAL PHOTO] this has 3-phase electric motor, has had very little use and works good, just not what the owner wants and needs, it […]
742 total views, 0 today
model 30HDD25, bought new in 2006 has worked only 500 hours, 1-owner that kept this under roof, has 47 HP. engine. includes hyd. loading, turning, […]
1522 total views, 1 today
heavy duty four 14, 4-head table w/top saw,Silvatech set works,45-50 feet of track frame,in good condition
1871 total views, 0 today
Richard's Machinery & Sales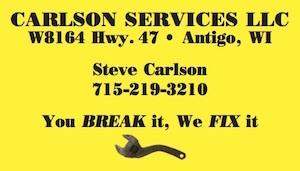 Semi Truck and Trailer, Farm and Construction Machine Repair!