1983 model w/John Deere engine, good tires and working condition, this is a simple machine for harvesting or feller buncher work, in Wisconsin
775 total views, 0 today
2012 model w/approx. 9700 hours, comes w/ pine and hardwood rollers, CH 710 boom, new cold weather start, chains, this is a very clean and […]
657 total views, 1 today
2003 model w/ approx. 16500 hours, this is near perfect coming from a good home and well maintained, HN 125 boom, H6 head has approx. […]
574 total views, 2 today
this is 2002 model w/ 2007 head, 06-HN200 crane, new boom end been rebuilt 2500 hours ago, runs good and mostly cuts pine, in Wisc.
781 total views, 1 today
2009 model w/9200 hours, processing boom w/Woody Harvesting Head, this is set up to harvest, process, grapple and forward wood, Cummins 300 HP engine, Clambunk […]
916 total views, 0 today
2003 model w/18200 hours, working in Wisconsin. price reduced 1-12-19
1785 total views, 1 today
Richard's Machinery & Sales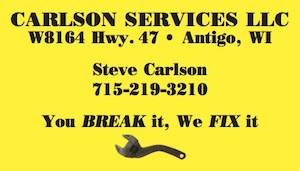 Semi Truck and Trailer, Farm and Construction Machine Repair!