not sure of year or hours, does have near new undercarriage w/30 inch pads and 38 inch wide bucket, runs and works, in Wisc.
412 total views, 1 today
2012 model w/2279 hours, new 24 inch bucket, battery and tracks, in upper Michigan
397 total views, 0 today
2000 model, 30000 lb, 8 foot 6 inchs wide, .90 bucket, in Michigan
828 total views, 0 today
1949 w/Hercules gas engine, all restored to near perfect condition and ready for work or play, in Wisconsin
1836 total views, 0 today
1984 model? rebuilt 353 Detroit engine, we have all the panels and doors, good machine for the age, in Wisconsin
3928 total views, 0 today
Richard's Machinery & Sales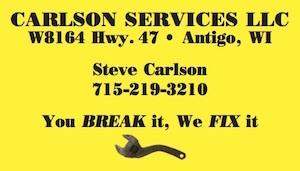 Semi Truck and Trailer, Farm and Construction Machine Repair!